Expanded ULEZ set to come into force – and will now cover every London borough | Politics News
The expansion of Sadiq Khan's controversial ultra low emissions zone (ULEZ) will come into force on Tuesday despite facing a number of political hurdles.
The zone – which charges motorists £12.50 a day if their car does not comply with emissions standards – will cover every London borough and not just the city centre, as was the case previously.
The London mayor has repeatedly said extending the zone during the cost of living crisis has been a "difficult but necessary" decision needed in order to improve the quality of the capital's air.
Mr Khan said expanding the zone will bring cleaner air to five million more people and is expected to reduce carbon emissions in outer London by a further 27,000 tonnes.
Speaking ahead of the new zone coming into force, Mr Khan said it was a "landmark day for our city which will lead to a greener, healthier London for everyone".
"The decision to expand the ULEZ London-wide was a difficult one, but necessary to save lives, protect children's lungs and help prevent asthma, dementia and other health issues," he added.
He said evidence had proved that clean air zones were a "game-changer" in cutting air pollution in cities.
"It's thanks to the ULEZ that we are now set to get London's air to within legal limits in the next couple of years, 184 years earlier than previously projected," he said.
"I'm determined to continue being a doer, not a delayer when it comes to reducing air pollution and taking bold climate action.
"The easiest thing for me to do would have been to kick the can down the road, but we simply don't have time to waste. I am not prepared to stand idly by when we have the ability to save lives and help tackle the climate crisis."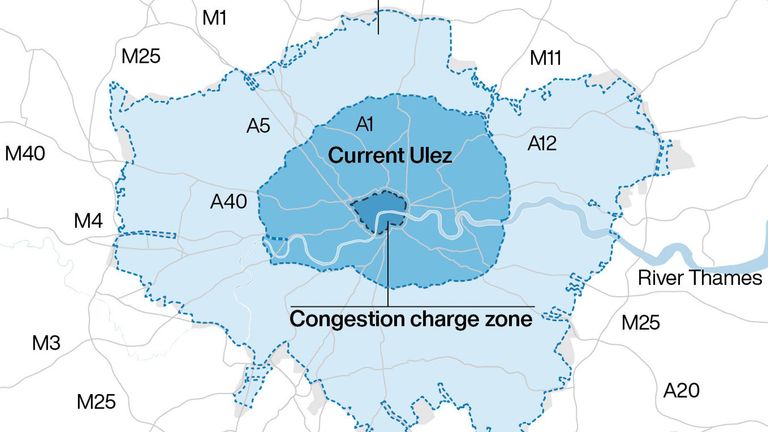 The expansion comes despite the London mayor facing stiff opposition to the plans from both the Conservatives and within the Labour Party – some of whom blamed the policy for the party's defeat in the Uxbridge and South Ruislip by-election last month.
Mr Khan's plans to extend the zone also faced a legal challenge by five local authorities – Hillingdon, Bexley, Bromley and Harrow in London, plus Surrey County Council – but it failed and the High Court ruled the expansion lawful.
It means that the zone will now be taken up to London's borders with Buckinghamshire, Essex, Hertfordshire, Kent and Surrey.
Those who drive in the newly expanded zone in a vehicle that does not meet minimum emissions standards will need to pay £12.50 a day fee or risk a £180 fine, reduced to £90 if paid within 14 days.
Read more:
ULEZ: Where is the new border?
Khan's office accused of 'cosy relationship' to 'silence' ULEZ criticism
July: ULEZ 'landmark decision is good news'

To curb some of the opposition, the London mayor announced last month that the scrappage scheme will be extended to all Londoners through a £160m fund.
Applicants with a wheelchair-accessible car or van can get up to £5,000, while drivers of a standard car can receive up to £2,000 to scrap their vehicle. Motorcycle riders can also receive up to £1,000 for scrapping their bike.
Charities, traders and businesses can apply for larger grants to scrap, retrofit or replace a van or minibus.
Previously, grants to scrap a non-compliant car and replace it with a new one were only available to child benefit recipients, disabled people and those on low incomes.
City Hall says 90% of cars seen driving in outer London on an average day are already compliant.
It has also received more than 15,000 applications in the last week alone, while nearly £60m has already been committed in advance of the expansion to people, charities and businesses who want to scrap or retrofit their vehicles.
How air pollution could impact dementia sufferers

Following the political fallout of the Uxbridge by-election – in which the Tories kept hold of Boris Johnson's former seat by just 495 votes – a number of senior Labour politicians denounced the policy as responsible for the by-election defeat, with some, including shadow health secretary Wes Streeting, calling on Mr Khan to halt the expansion.
Sir Keir Starmer has also come under pressure to demand that Mr Khan delay extending the zone, with Transport Secretary Mark Harper urging the Labour leader to make his position on ULEZ "clear".
Mr Harper told Sir Keir that while he does not have the "legal power to prevent the ULEZ expansion being introduced, you do have the power to stop it".
In response, a Labour source said: "The Conservatives are desperately hoping that the public forgets that clean air zones are their government's own policy, and that a Tory mayor created ULEZ.
"They've hammered motorists and stood idle while petrol prices soared, car insurance rocketed, and fewer potholes get fixed."