Extinction Rebellion protesters target Labour HQ with fake oil and smoke grenades | UK News
Extinction Rebellion protesters have poured fake oil over the steps of Labour's headquarters, calling on the party to take "urgent action" to cancel fossil fuel licences.
Activists climbed on to the London building's entrance and set off smoke grenades, while another chained himself to a handrail.
Other Extinction Rebellion (XR) protesters held up banners which said: "Labour, cut the ties to fossil fuels".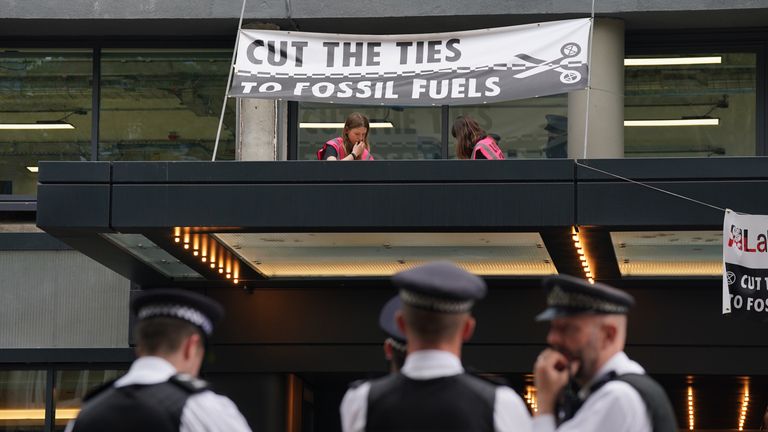 The Metropolitan Police said it was called at around 9am on Monday and found "one person had locked themselves on to a pillar on the building and two people had scaled the canopy outside".
"Specially trained protest removal teams made sure protesters were removed from the building quickly and safely," the force added.
"Two men have been arrested on suspicion of criminal damage and remain in police custody at this time."
The demonstration was at the party's headquarters in Blackfriars Road, Southwark, southeast London, and followed an XR protest in Parliament Square on Saturday involving an effigy of Labour leader Sir Keir Starmer dressed as Margaret Thatcher.
The protest group is demanding any future Labour government takes "urgent action" to cancel hundreds of new oil and gas exploration licences in the North Sea.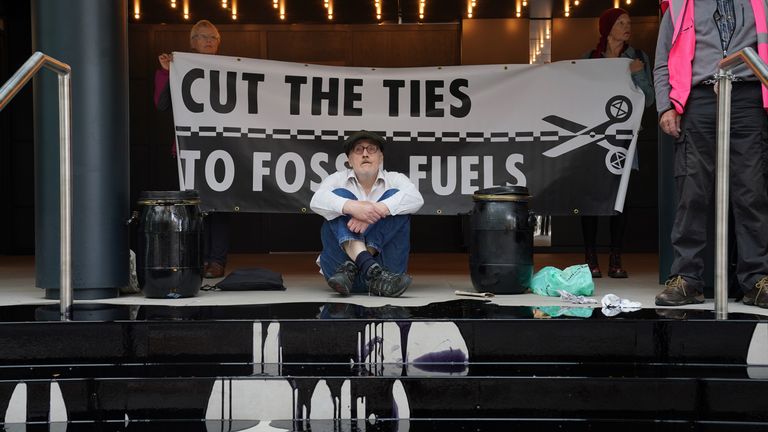 XR is also demanding a manifesto commitment from Labour to make the transition to renewable energy an "urgent priority".
Commenting on the demonstration, an XR member said: "We demand an end to all new fossil fuel licences, including cancelling any awarded by this zombie Tory government before the next election."
Read more:
US Open interrupted by climate activists
Protesters glue themselves to Picasso painting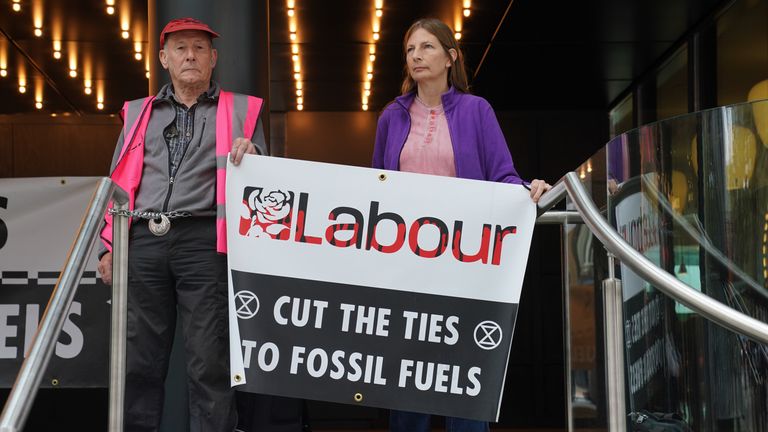 Last month, Prime Minister Rishi Sunak defended a planned expansion of oil and gas drilling in the North Sea, claiming it is "entirely consistent" with the government's goal to reach net zero by 2050.
Sir Keir has pledged to end North Sea exploration, saying the end of oil and gas extraction "has to happen eventually" and the "moment for decisive action is now".
The Labour Party has been approached for comment about the XR protest.