Nicola Sturgeon: Top prosecutor refuses to say if search of former first minister's home was 'deliberately delayed' until after she left office | Politics News
The head of Scotland's prosecution service has refused to say whether a search warrant for Nicola's Sturgeon's home was "deliberately delayed" until after the SNP leadership contest ended.
Lord Advocate Dorothy Bain KC, who leads the Crown Office, was questioned by Sky News after it emerged her organisation was made aware of a police request to raid the former first minister's home two weeks before it was given the green light.
The SNP's headquarters in Edinburgh was also raided by detectives.
According to a Freedom of Information request first published in The Sun newspaper, Police Scotland asked prosecutors to sign off the warrants on 20 March – which was one week before Humza Yousaf became SNP leader.
The go-ahead was not officially given until 3 April.
Search on Sturgeon's home ends

The Lord Advocate is the most senior law officer in Scotland and sits in the Scottish government cabinet as chief legal adviser.
Sky News approached Ms Bain as she departed Tuesday morning's cabinet with First Minister Humza Yousaf.
She did not reply when asked if the Crown Office "deliberately" delayed issuing warrants until after the SNP contest and entered her car when asked if she personally was aware of developments in the case.
The Crown Office said it received a "draft warrant" before it was "finalised" on 3 April.
A spokesperson for the Crown Office and Procurator Fiscal Service said: "COPFS understand the interest in this case but to protect the fair administration of justice we urge restraint in public comment.
"It is standard that any case regarding politicians is dealt with by prosecutors without the involvement of the Lord Advocate or Solicitor General.
"COPFS will continue to work with police on this ongoing investigation."
I had 'no prior knowledge' of raid

'Revelation will raise eyebrows across Scotland'
Scottish Conservative MSP Russell Findlay said: "There appears to be no evidence of any undue influence or interference in this process.
"However, the lack of answers to these questions only serves to fuel public concerns about the decision-making taking place behind closed doors.
"The whole murky saga brings into sharp focus the untenable dual role of the Lord Advocate, both as head of the prosecution service and the Scottish government's most senior lawyer with a place at the cabinet table."
Scottish Labour deputy leader Jackie Baillie said: "This is a very interesting revelation that will lead to raised eyebrows across Scotland.
"Whilst I accept that the Lord Advocate may not have had a direct influence on the timing, this story underlines why we need to have a serious discussion in Scotland about separating the role of the Lord Advocate to ensure that there is no perception of conflict of interest can ever occur."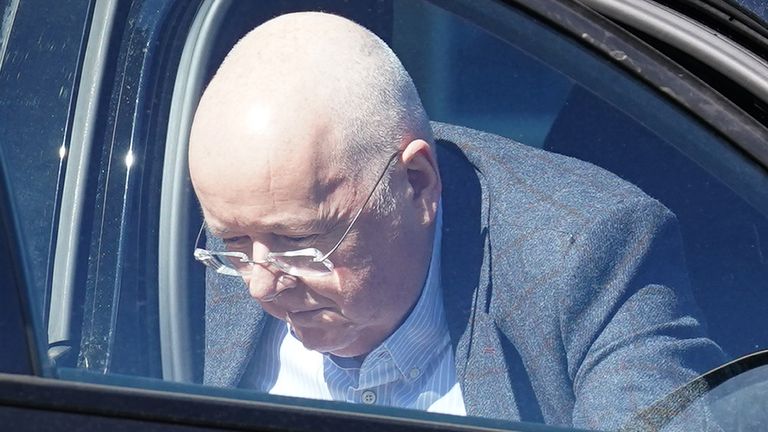 Read more:
Scottish Tory leader condemns SNP 'secrecy, spin and cover-ups'
Nicola Sturgeon says SNP crisis is beyond her 'worst nightmares'
Who is at the centre of the police probe into the SNP?
Long-standing SNP chief executive Peter Murrell was arrested and later released without charge pending further investigations amid the probe.
A £100,000 luxury motorhome was removed from the home of Mr Murrell's elderly mother in Fife.
SNP stalwart Colin Beattie quit as party treasurer hours after he was arrested and released as part of the same investigation.
Police Scotland say the probe, dubbed Operation Branchform, continues.