Northern Ireland: Widow of man turned into 'human bomb' by IRA criticises Troubles legacy bill | UK News
The widow of a man turned into a "human bomb" by the IRA has hit out at a controversial law which would effectively end prosecutions linked to The Troubles in Northern Ireland.
MPs have approved the Northern Ireland Troubles (Legacy and Reconciliation) Bill, which will stop new cases and inquests being opened into killings on both sides of the conflict, as it passed its final Commons hurdle.
Patsy Gillespie, from Derry, was strapped into a van and forced to drive a bomb into a British Army checkpoint on the border between Londonderry and Donegal on 24 October 1990.
The device was triggered by remote control and the 43-year-old man was killed along with five soldiers – he managed to save the lives of other troops after shouting a warning to them.
Sinn Fein described him as a "legitimate target" because he worked in the army's canteen. But no-one has ever been convicted over the atrocity.
The Troubles in Northern Ireland lasted about 30 years from the late 1960s to 1998.
Under the new Westminster law, which has sparked anger from all sides on the island of Ireland, conditional amnesty will be offered to those who reveal information about the incidents to a new truth recovery body.
'They're not getting punished'
Speaking to Sky News, Mr Gillespie's widow Kathleen criticised the legislation, saying: "What they did to Patsy has been condoned and all the other atrocities are being condoned.
"At the end of the day, they're getting away with what they've done. And they think they are these big men, they are trotting about… And they're not getting punished.
"So let me ask whoever is listening to this. How would you feel if you were in my position? Would you be alright about it."
She said if one of the men involved in the 1990 attack ever came to her front door asking for forgiveness she said she would "make it very clear there was no forgiveness in me".
Mrs Gillespie added: "The one question that I would ask is, what made you think it was okay to sit down with other men and plan what you did to my husband?"
Why bill could be biggest test of Anglo-Irish relations in 50 years
Legislation to end historical prosecutions in Northern Ireland could be the biggest test of Anglo-Irish relations in half a century.
It was 1971 when Dublin last brought a case against the UK government to the European Court of Human Rights.
Opposition to the controversial Legacy Bill has created the most unlikely alliance of Unionists, Nationalists, Dublin, Washington and the EU.
The government will focus on the fact that British Army veterans will be granted immunity from prosecution for historical offences.
But the amnesty will also apply to the very terrorists who murdered British soldiers on the streets of Northern Ireland.
Northern Ireland Secretary Chris Heaton-Harris claims the bill will "draw a line under the past".
But relatives of victims say it only benefits perpetrators because it is they who will choose between truth and justice.
If someone accused of murder provides information to a new Truth Recovery Body, they will be granted a prosecutorial amnesty.
With 3,000 of the 3,500 Troubles murders unresolved, the legacy of the past has clouded the Northern Ireland peace process.
But the cloud won't be lifted by demanding too high a price from those who have paid most – the victims.
Read more:
The Good Friday Agreement 25 years on
Bloody Sunday: A 'watershed' in the history of The Troubles
Gerry Duddy, whose 17-year-old brother Jackie was shot dead by British soldiers on Bloody Sunday in 1972, said he was "very angry" at the new legislation because he "never got any justice".
He told Sky News: "If I draw a line now, I am letting my brother down and other people that died and to the British Army.
"And I made a promise one time and I intend to keep that promise going for as long as I'm here on this Earth.
"I'm very, very angry. We never got the chance to finally finish grieving. We are still grieving because we never got any justice."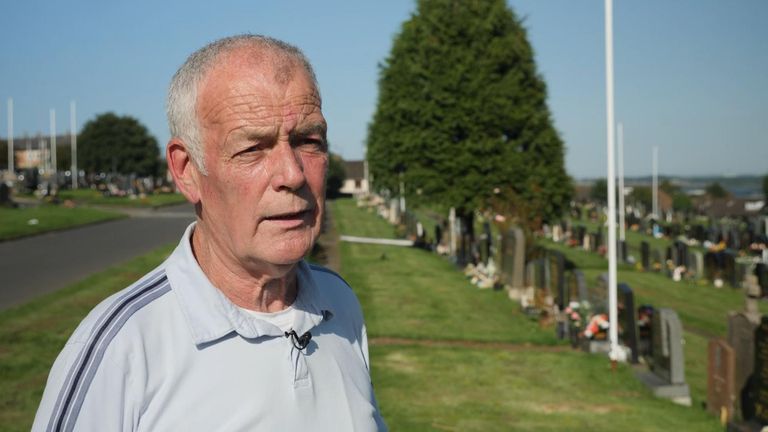 Last year, the sister of Jackie Derry urged the soldier who fired the fatal shot to admit it.
Kay Duddy said Jackie cannot rest until that happens and directly appealed to former members of the British Parachute Regiment.
She said: "Please put your hands up and say you did it, so we can lay our wee brother to rest."
Northern Ireland Secretary Chris Heaton-Harris has said he believes the bill – which will now return to the Lords to be approved before becoming law – will "draw a line under the past", and it has received support from a number of veterans' organisations.