Rishi Sunak says Lucy Letby inquiry should be judge-led to 'get answers' for families | Politics News
Rishi Sunak has said the inquiry into the murders carried out by Lucy Letby should be judge-led.
The government ordered an inquiry last week after Letby was found guilty of murdering seven babies and attempting to murder six others while working as a neonatal nurse.
She was sentenced to 14 whole-life orders and will never leave prison.
The prime minister was asked if the government inquiry into her crimes will be statutory, meaning people can be compelled to give evidence.
Ministers had previously said that "after careful consideration", a non-statutory inquiry into the circumstances at the Countess of Chester Hospital "was found to be the most appropriate option".
But lawyers for the bereaved families have been calling for a full statutory public inquiry to take place so there was "nowhere to hide".
"This was one of the most despicable, horrific crimes in our history, and it's really important that we get answers, particularly for the families of the victims," Mr Sunak said.
"And of course, my thoughts are with them. The health secretary is taking that work forward, speaking to them to make sure we understand what they need and want and how best we can address that.
"Now, whatever form the inquiry takes, I believe it is important that it is judge-led so that it has a strong, independent voice to get to the bottom of what happened."
Rishi Sunak reacts as energy price cap falls – politics latest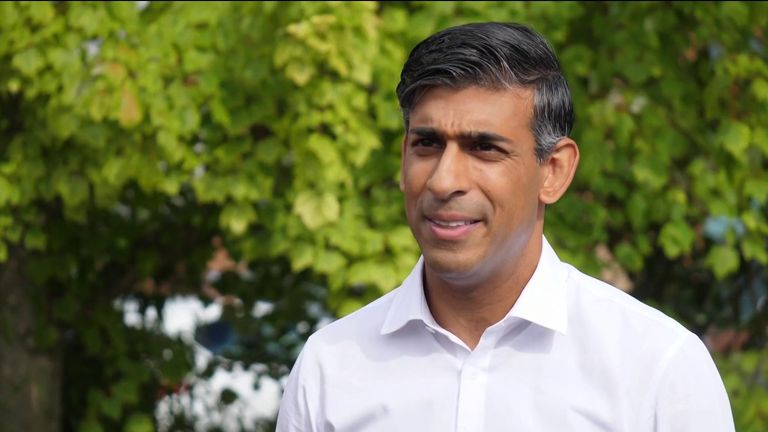 Families have 'lost confidence' in NHS
Richard Scorer, from law firm Slater and Gordon which is representing two of the Letby victims' families, welcomed the prime minister's recommendation for a judge-led inquiry.
But he added: "It is crucial that the judge and the inquiry has the powers to compel witnesses to give evidence under oath, and to force disclosure of documents.
"For that to happen, the inquiry needs to be put on a statutory basis.
"Otherwise it will lack legal teeth and is likely to be ineffective."
Read more:
The Letby case in detail
Doctors were accused of 'harassing' killer nurse
Medics will be 'supported to speak out' under new guidelines
Tamlin Bolton of Switalskis Solicitors, who represent families of seven of the victims in their claims against the hospital trust, said: "We reiterate and echo the prime minister's comments.
"We have to bear in mind that the families involved in these heinous crimes have lost confidence in the NHS and will need continual reassurance that the NHS fully comply with an inquiry.
"We are of the view that this can only be achieved by a process that is guaranteed to allow for thorough investigation. A process that has the ability to compel witness attendance and where all evidence is available to the inquiry.
"These families cannot be left to simply hope that the key information is being considered and rely on the willingness of staff to give evidence.
"It is vital that any inquiry moves with pace to ensure everything that happened on that unit and the actions of management are not repeated."
Letby, 33, refused to attend court for the announcement of a number of guilty verdicts on Friday or for her sentencing on Monday.
Sky News understands the government is now looking at changing the law to force criminals to appear.