Rishi Sunak's attempt to walk tall dwarfed by Lord Cameron | Politics News
If Rishi Sunak wanted to walk tall on the world stage, perhaps David Cameron was an unfortunate choice as his foreign secretary.
The prime minister chose to greet the Korean president on a state visit to the UK walking alongside Lord Cameron and the new home secretary, James Cleverly.
But as the trio strode across Horse Guards Parade after the welcoming ceremony, Mr Sunak was dwarfed by his two cabinet heavyweights.
Politics news – live: Whitty gives evidence to COVID inquiry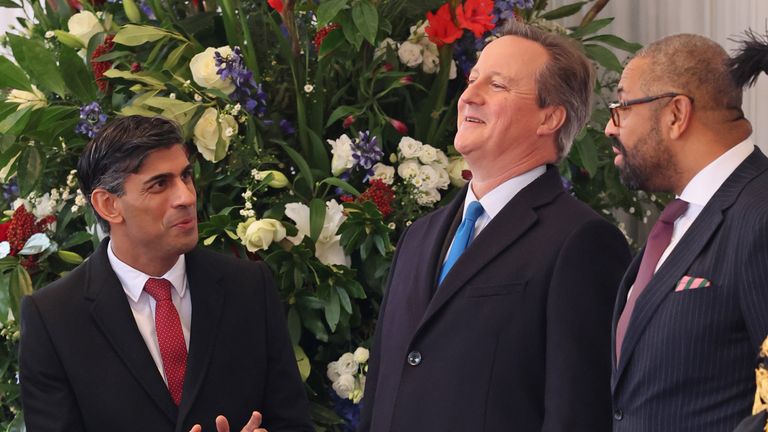 One observer cruelly remarked that the prime minister looked like a page boy alongside the groom and best man at a wedding.
Shortly after becoming prime minister, Mr Sunak made a quip to journalists about the UK moving from its shortest-serving prime minister, Liz Truss, to the shortest.
When Sky News then asked him how tall he was, he said 5ft 7in. But that has been strongly disputed and it's estimated his true height is more like 5ft 5in or 5ft 6 in.
Lord Cameron, on the other hand, is an upright 6ft 1in and walks with all the swagger and self-confidence of an old Etonian and former prime minister.
Mr Cleverly, meanwhile, is a barrel-chested former Territorial Army reservist who stands at a burly and muscular 6ft 3in.
Perhaps the height difference would have been less obvious if Mr Sunak had placed himself in between his two colleagues rather than on Lord Cameron's right. But perhaps not.
It has already been remarked, however, that there's a trend these days for world leaders who are not that tall. French president Emmanuel Macron, for example, is under 5ft 7in.
German Chancellor Olaf Scholz is about 5ft 5in and Ukraine's Volodymyr Zelenskyy is the same height. Mr Zelenskyy was also dwarfed by Lord Cameron when he visited Kyiv last week.
Former French president Nicolas Sarkozy is under 5ft 6in and famously wore platform heels so he wouldn't be dwarfed by his statuesque wife Carla Bruni.
Vladimir Putin's height has been estimated at 5ft 6in or 5ft 7in and it has been claimed that the Russian leader has a "Napoleon complex".
Senior Conservatives are keen to point out that Mr Sunak is not the UK's shortest prime minister. Wartime leader and Tory hero Sir Winston Churchill was only 5ft 5in.
After his ceremonial duties on Horse Guards Parade, Lord Cameron made an elegant maiden speech in the House of Lords in which he heaped praise on Mr Sunak, and couldn't resist a jibe at his old rival Boris Johnson.
"Wanting to serve under Rishi Sunak, who I believe is a strong and capable prime minister is one of the reasons why I accepted his offer of this role," the new foreign secretary told peers.
"I had two former party leaders in my cabinet alongside many veterans of Tory leadership campaigns. And I valued all their advice.
"And I hope that some of my experience will help the prime minister in meeting the vital challenges that we face as a country. That said, it was a surprise to be asked.
"I have not been sitting like some latter-day de Gaulle at Colombey-les-Deux-Eglises waiting to be asked, how shall I put it, to take back control."
Read more:
Highest ever October state borrowing costs, official figures show
Rishi Sunak will have to answer serious allegations at the COVID inquiry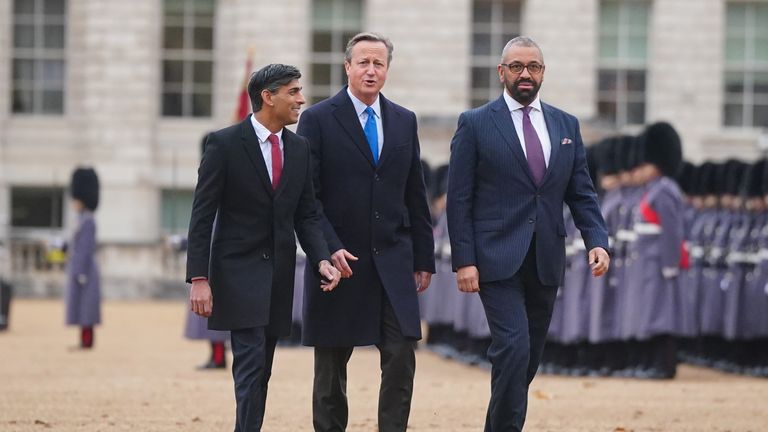 And referring to Mr Johnson, he added: "Nor am I Cincinnatus hovering over my plough. I leave all classical allusions, and indeed illusions for that matter, to another former prime minister with whom I shared a number of educational experiences."
On his political comeback, a self-deprecating Lord Cameron said: "When I look at the ornate, carved wooden panels that surround us and compare them to my now-infamous shepherd's hut, I can tell you this is already a significant upgrade."
And he ended by claiming that the international trade bill he was introducing was "an investment in a brighter future" before declaring: "And I should know because I was the future once."