Rishi Sunak's risky move: Hiring military novice Grant Shapps as defence secretary at a time of war in Europe | Politics News
The appointment of military novice Grant Shapps as defence secretary is a risky move by the prime minister at a time of war in Europe and major funding challenges for the Armed Forces.
A senior Whitehall source said the choice suggests Rishi Sunak favours appearance over substance – placing a strong communicator into one of the most important jobs in government instead of a candidate with more relevant subject matter experience.
Other names that had been mentioned as possible contenders to replace Ben Wallace included Foreign Office minister Anne-Marie Trevelyan – herself a former defence minister – or security minister Tom Tugendhat, who previously served as a reservist.
Appointment 'ruffles feathers' – reshuffle latest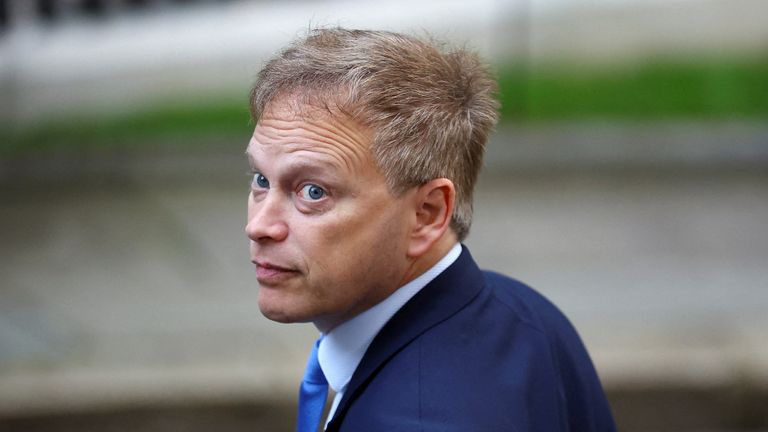 "So depressing," the source said. A second source added: "Grant's solid but not a military warrior!"
There will be relief within the Ministry of Defence that at least Mr Shapps is an experienced cabinet minister rather than a more junior politician.
However, there will also be concern at the arrival of someone with no prior knowledge of defence, and no time to get to grips with his new brief.
At the top of his in-tray will be the UK response to Russia's war in Ukraine.
Mr Wallace, a former Army officer, had played a key role in galvanising international support to arm the Ukrainian military.
It is a job that will be increasingly important in the coming months as the threat of "war fatigue" grows among some Western allies.
Read more analysis: Is this an ominous sign of what's to come?
'UK defence in a vulnerable state'

Another critical area is the need to rebuild the Army, Royal Navy and Royal Air Force after decades of cuts and underfunding.
The Army in particular is in a parlous state having given many of its ageing weapons – armoured vehicles, artillery pieces and ammunition – stocks that will need replenishing as part of a wider modernisation programme that requires strong leadership.
For the Navy, it has been struggling with recruitment amid warnings of dire consequences for the ability to man ships and even the nuclear deterrent submarines if the number of people signing up does not improve.
As for the RAF, it has been dealing with multiple crises over the past year, including the revelation of an unlawful recruitment drive that saw white men unfairly disadvantaged in favour of women and ethnic minorities.
Shapps 'knows very little about defence'

There have also been serious problems with flying training that have yet to be resolved, and morale among the service is dismally low.
In addition, the military is grappling with a multibillion-pound programme to renew its fleet of nuclear-armed submarines at the same time as growing a new fleet of nuclear-powered boats in a partnership with Australia and the US.
This programme is of strategic national importance and is something the defence secretary will need to understand fast.