'Tiny number' of Afghan refugees without permanent homes as hotel deadline looms, minister | Politics News
A "very tiny number" of Afghan refugees are still without permanent homes two years after arriving in the UK, according to the government.
Veterans minister Johnny Mercer insisted "nobody is sleeping rough, nobody will sleep rough" when asked about the end of the hotel phase of the Afghan resettlement scheme this month.
After the Taliban takeover of Afghanistan in August 2021, the British military airlifted thousands of people to safety in the UK under "Operation Pitting" – the largest humanitarian aid operation in decades.
The majority of the 25,000 people who arrived worked for the British government and the armed forces in Afghanistan, and they initially lived in hotels.
Mr Mercer today confirmed that "the vast majority of them are in settled long term accommodation".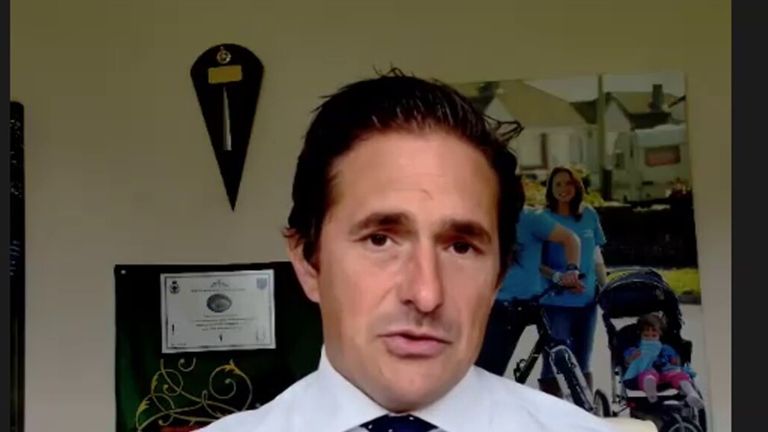 In May, the Home Office told those in hotels they must move out of this "bridging" accommodation by 31 August.
The government has promised to find them "settled accommodation", but Mr Mercer admitted today this has not yet been the reality for all Afghans brought to the UK.
He said there is a "very, very tiny number" who have "not accepted accommodation".
The minister said extra funding of £9,000 will be handed to local authorities to help them "look after" refugees until they can be found long term homes.
Mr Mercer added: "You're talking tiny numbers in that space.
"The vast majority have resettled into long term accommodation and can start building the lives as was promised when we took them out of Afghanistan."
Read more:
Nadine Dorries sends resignation letter to Rishi Sunak
Whole-life sentences will become 'default' for sexually motivated or sadistic murders
Pressed on the matter, he reiterated that "nobody will be sleeping rough as a result of this policy".
"Hotels are not a long term solution for these families, it's unfair on them, it's unfair on the British taxpayer," the minister said.
"We're working really hard to generate almost 1,000 properties now," he said, adding that 400 people a week are moving into "settled, long term accommodation".
Mr Mercer denied reports the Home Office has offered hundreds of Afghan refugees accommodation in empty army barracks.
He said: "Nobody, absolutely nobody, is housed in army barracks."