Why Rishi Sunak could face a bigger headache from rising legal migration than the asylum seeker backlog | Politics News
The pressure building on migration means tough choices for the prime minister.
Rishi Sunak has made stopping small boats his priority, but it's a big rise in legal migration which is the story in these figures.
The number of skilled worker visas is up by two-thirds in the year to June 2023 to more than half a million.
It's driven by big rises in the numbers of people coming to work in health and care – both of which are struggling to recruit.
International students – a success story for universities – are up to 657,000 if you include their dependants, which the government has plans to introduce limits on.
Now that free movement has ended, work visas – especially for skilled work – are easier to come by than before Brexit.
The numbers are no longer strictly capped, and neither is the time limit.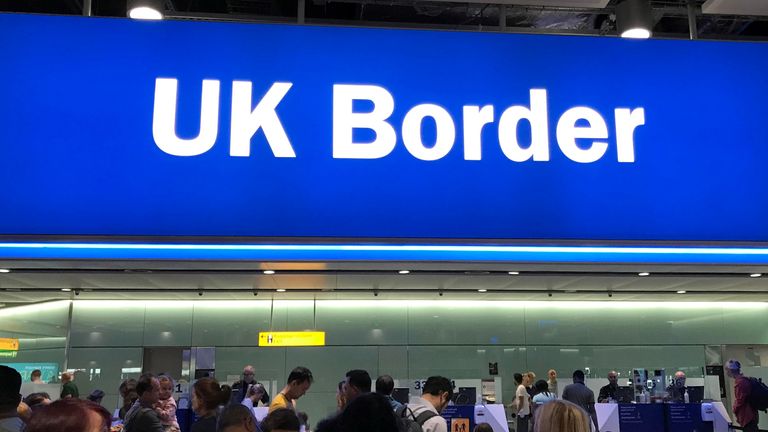 Applicants who stay here for five years can settle permanently in the UK and eventually apply for citizenship.
Some advocates of Brexit and the Australian-style points system said this was how the system should work – that if there is a shortage in a certain sector, it should be easier to bring people in.
The political problem is that the rapidly rising number of work visas means more migration overall, and that's the opposite of what the government promised when elected.
Net migration – the difference between the number of people arriving in the UK and leaving – is already at a record high of more than 600,000.
The 2019 manifesto dropped the commitment to reduce net migration to the tens of thousands, after years of failing to meet it.
But Rishi Sunak has promised to bring migration down overall, and it is running at around three times the levels at the last election.
Ministers point to unprecedented circumstances in the past two years, including people being resettled from the violence in Ukraine and unrest in Hong Kong, and those numbers are levelling off.
But the work visas will, on these trends, continue to climb higher.
John Vine, the former chief of borders and immigration, has said reports about abuse of the system should trigger an investigation into whether it is functioning properly.
A small group of Tories called the New Conservatives – opposed by some others in their party – is already claiming it's time to cut back on skilled work visas, even in the social care sector, which has 165,000 vacancies.
Then there is Sunak's battle with irregular migration.
The government has passed the Illegal Migration Act to try to ensure that those who come on small boats are detained and removed.
But the backlog of cases – and hotel bills alongside it – is at a record 175,457 people awaiting an initial decision.
Read more:
No job for many people arriving in UK on skilled worker visas
Crackdown on illegal migration could spark 'perma-backlog'
Click to subscribe to the Sky News Daily wherever you get your podcasts
The prime minister promised to get through the backlog of "legacy" cases – those lodged before June 2022 – by the end of this year, despite warnings by the National Audit Office that it was unrealistic given the number of decisions required.
The cases in that group are now down a bit to 67,870, requiring a big increase in the number of decisions to get through it.
With Labour now taking aim at an asylum system "in complete chaos", Rishi Sunak faces criticism from all sides.