Caution important despite government confidence over inflation surprise | Politics News
Amid the gale raging both literally and figuratively around Downing Street this morning over the government's green policies, a ray of sunshine has arrived from an unexpected source – inflation.
Experts had predicted the figure for August would tick up to 7.1% from 6.8% in July – but instead, the ONS revealed it had actually fallen to 6.7%.
In his calm tones, Chancellor Jeremy Hunt pronounced this demonstrated "the plan is working" – although he had to acknowledge that historically high levels of inflation still meant "a lot of pain for ordinary families who are still seeing their shopping bills go up, their fuel prices go up".
Politics Hub: Surprise cabinet meeting as speech on weakening green policies confirmed
Chief Secretary to the Treasury, John Glen, was rather more triumphant about it, saying: "We have beaten expectations with a further fall in inflation, now down 40% from its peak, and the OECD forecasting it will fall below 3% next year."
Tory backbenchers, starved of much in the way of good news to share, have been cautiously celebrating the result online too.
"Welcome (and surprise) good news," tweeted Simon Clarke, fresh from last night's frustrated critique of his government's approach to Net Zero, where he said: "Businesses rely on certainty to make major investments… it's unclear how they are to plan at all if we respond to one byelection in west London by tearing up key planks of government policy."
Another Tory MP, Simon Hoare, said: "Not out of the woods yet but steadily moving in the right direction."
The note of caution is important – because while inflation may be falling slightly, it's still painfully high, and that's what really matters to voters.
Jeremy Hunt says 'the plan is working' as figures show inflation has gone down.

Today's figures have raised hopes in some quarters that the Bank of England may finally stop raising interest rates when it publishes its rates decision tomorrow, though that's by no means certain.
And the numbers certainly haven't blunted Labour's attacks on the government's handling of the economy, with Rachel Reeves commenting this morning that the UK was still forecast to have the highest inflation of any major economy this year, adding: "The prime minister is too weak to turn things around."
But both Rishi Sunak and his chancellor are now confident that they're on track to meet the prime minister's target of halving inflation by the end of the year – which would mean reaching a figure of 5.3% or lower.
That would make inflation only the second of the five targets – along with growing the economy (which grew by 0.2% in the three months to July) – that the PM really looks like he has any chance of hitting.
Otherwise the country's debt remains higher than it was, NHS waiting lists keep growing, and the small boats are still arriving across the Channel.
The government badly needs inflation to keep falling to have any real hope of winning back disillusioned voters at the next election.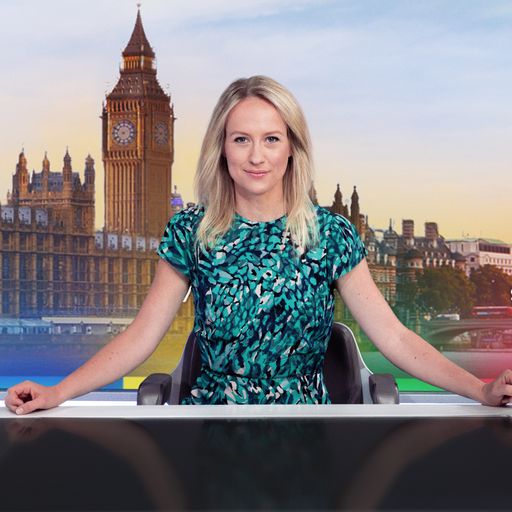 Politics Hub with Sophy Ridge
Sky News Monday to Thursday at 7pm.
Watch live on Sky channel 501, Freeview 233, Virgin 602, the Sky News website and app or YouTube.
Tap here for more