Rishi Sunak asks Suella Braverman for 'further information' over speeding ticket | Politics News
Rishi Sunak has asked Suella Braverman for "further information" about the speeding ticket she received – and how she handled it.
There are growing calls for an investigation into what happened, following reports Ms Braverman asked the civil servants to try and secure her a private speed awareness course after she received a speeding ticket in 2022.
Cabinet Office minister Jeremy Quin, speaking for the government, said Mr Sunak had met both the government's independent ethics adviser and Ms Braverman to ask for "further information".
Politics latest:
Pressure mounts on PM to launch Braverman probe
Opposition MPs want ethics adviser Sir Laurie Magnus, who investigated Nadhim Zahawi, to look into the events surrounding Ms Braverman, her speeding offence, and what she asked civil servants and political advisers to do.
The matter was debated in the House of Commons after Labour's Deputy Leader Angela Rayner asked an urgent question on the subject.
She asked "how many strikes" before the home secretary is "out"?
In response to the urgent question, Mr Quin said: "The prime minister made clear to the house yesterday that he is receiving information on the issues raised.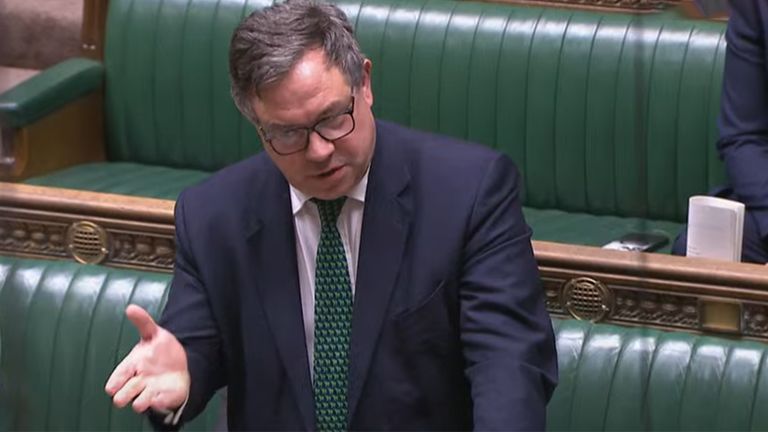 "Since returning from the G7, the prime minister has met both the independent adviser and the home secretary and asked for further information.
"It is right that the prime minister, as the head of the executive and the arbiter of the ministerial code, be allowed time to receive relevant information on this matter.
"Honourable members will be updated on this in due course."
The subsequent debate saw various Conservative MPs – mainly those on the right of the party – standing to support Ms Braverman.
One – Sir Edward Leigh – said the "moral outrage" around Ms Braverman was "ludicrous".
Braverman accepts speeding offence

He said: "What's wrong with this country, we used to have proper scandals about sex or money, or about prime ministers invading Iraq on dodgy evidence in which hundreds of thousands of people died."
Both Labour and SNP MPs called for further action.
Labour's Lloyd Russell-Moyle asked: "If the prime minister is gathering the evidence, he is asking for more information, what is so wrong with just launching an investigation properly through the correct channels?"
And the SNP's Kirsty Blackman described the situation as an "absolute farce".
Ms Braverman previously said there "nothing untoward happened" over the way her speeding infraction was handled.
Click to subscribe to the Sky News Daily wherever you get your podcasts
Earlier this week she said: "Last summer, I was speeding, I regret that, I paid the fine and I took the points, but we're focused now on delivering for the British people and working for them."
She added: "In relation to the speeding tickets in my fine and points, I'm very confident nothing untoward happened."