Rishi Sunak – India's 'son-in-law' – heads to Delhi for the G20 summit | Politics News
Rishi Sunak has spoken of his "special" relationship with India, where he is seen as a "son-in-law".
He is visiting Delhi for the first time as prime minister to attend the G20 summit, and hopes to make progress towards a trade deal with his Indian counterpart Narendra Modi.
Mr Sunak's Indian heritage generated huge interest when he won the leadership 11 months ago, and he is expected to get a warm welcome.
Downing Street described his trip as a "historic moment" and a "living bridge" between the two countries.
Speaking to reporters on the plane about the importance of his visit, as the first British prime minister of Indian heritage, he said: "Of course it's special, I'll be visiting a country that is very near and dear to me.
"I haven't been back for a few years. I was meant to go actually in 2020 – we take our family typically in February half-term every year – and I got made chancellor right before so I didn't get to go with the rest of my family.
"It's obviously special. I saw somewhere that I was referred to as India's son-in-law, which I hope was meant affectionately."
Mr Sunak will be travelling with his Indian wife Akshata Murty, whose parents live in the country.
He sees the summit as a chance to talk about the global challenges of inflation, climate change and new technology.
Read more from Sky News:
Why a UK-India trade deal isn't guaranteed
Climate change a top priority at G20 summit
Why is an India-UK deal important?

Beijing's cooperation is seen as crucial to making progress on these issues – and Mr Sunak did not rule out a side meeting with Chinese premier Li Qiang, as President Xi Jinping is giving it a miss.
"I'm expecting to see a range of people when I'm at the summit," he said.
Reaching a joint communique at the end of the summit given the differences on Russia and Ukraine was going to be "challenging", he said.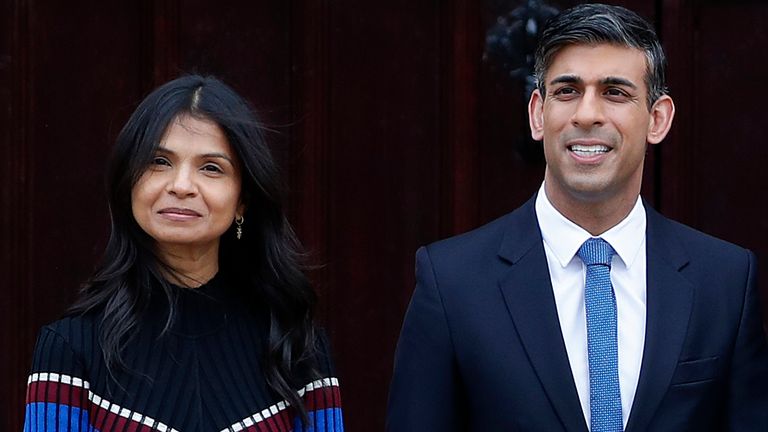 Mr Sunak said the UK would "continue to make the case" to China that "what Russia is doing is wrong, and why it's right to support Ukraine, particularly when it comes to food security".
Britain would also use negotiations over the weekend to make sure G20 nations "continue to meet their climate commitments", he said.
The prime minister indicated that he wanted China to commit to the same form of words on Ukraine and climate change – the issues dominating the discussions – that was agreed at the last G20 summit in Bali, Indonesia, last year.